Description:
Our Electric Wall Heater plugs right into any outlet without taking up any space to give you a warm and cozy place to relax! It's the quick, easy way to heat up to 250 square feet without expensive heating bills. 
Turn cold and chilly spaces into warm and cozy places for just pennies a day. Just set the digital thermostat to the temperature you want, and Handy Heater will turn on and off automatically. 
Benefits: 
Quick and easy heat – Instantly
Plugs in and turn on
Programmable 12-hour timer.
Auto shut-off timer
Compact design.
Frees up floor space
Adjustable Digital Thermostat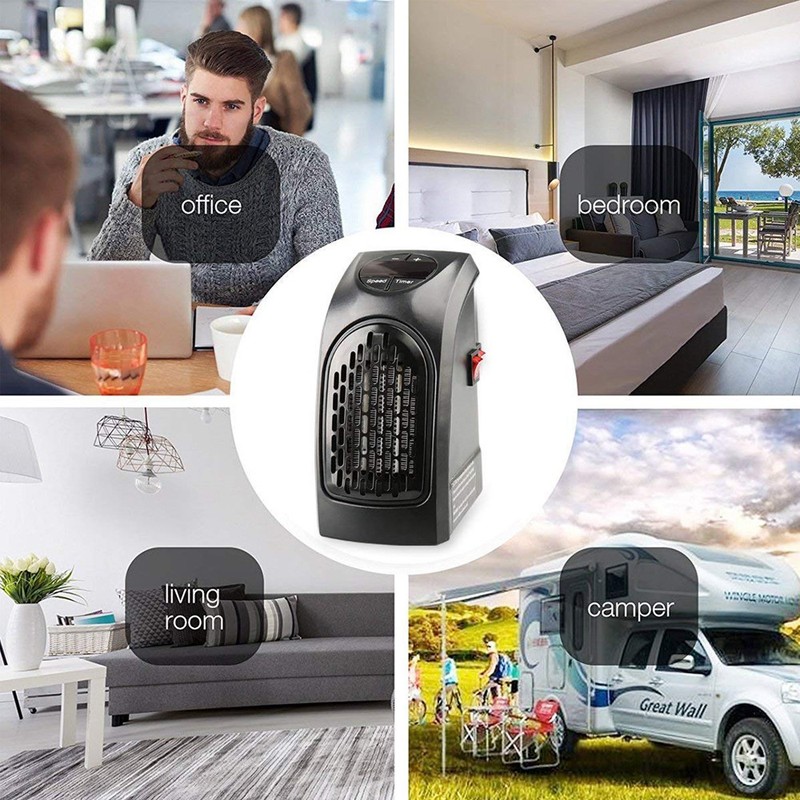 Instructions: 
Use on wall only.

Always plug heater directly into a wall outlet. Never use with an extension cord or power strip.
The heater is hot when in use. To avoid burns, do not let bare skin touch hot surfaces. Keep combustible materials, such as furniture, pillows, bedding, papers, clothes and curtains at least 3 feet (0.9m) from any side of the heater.

This heater is not intended for use in wet or moist areas. Never install heater where it may fall into a bathtub or other similar locations. For indoor use only.
To use simply plug in this handy heater, set the temperature and keep the chills away, any time anywhere!
 When winter comes or cold weather snaps, it becomes critical to keep warm. But it's not always easy to make your immediate surroundings warm and cozy.
If you work in a garage, a shop, office or if you are on the go traveling or camping, getting warm and cozy usually means wrapping yourself in huge chunky layers, blankets and gloves, not ideal for getting things done or relaxing in comfort.
This is the ideal solution to those cold spaces, at work, home or on holiday. All you need is a standard plug socket and instantly surround yourself with warm flowing air.  No messy cables, no moving parts and no bulky heating units to contend with. Just a simple, easy, direct, comfy heat straight from the wall!
OUR PROMISE:
🌍 FREE WORLDWIDE SHIPPING
- We offer FREE world wide shipping for all orders

🔒 100% Secure Payments
- Secured by the same security as big banks and other financial institutions.

✔️ 100% Money Back GUARANTEE
- If the product arrive damaged or not as described, send us an email and we'll refund every penny

📞 24/7 Customers Support
- Got questions? our support staffs are here to answer any queries before and after placing your orders.