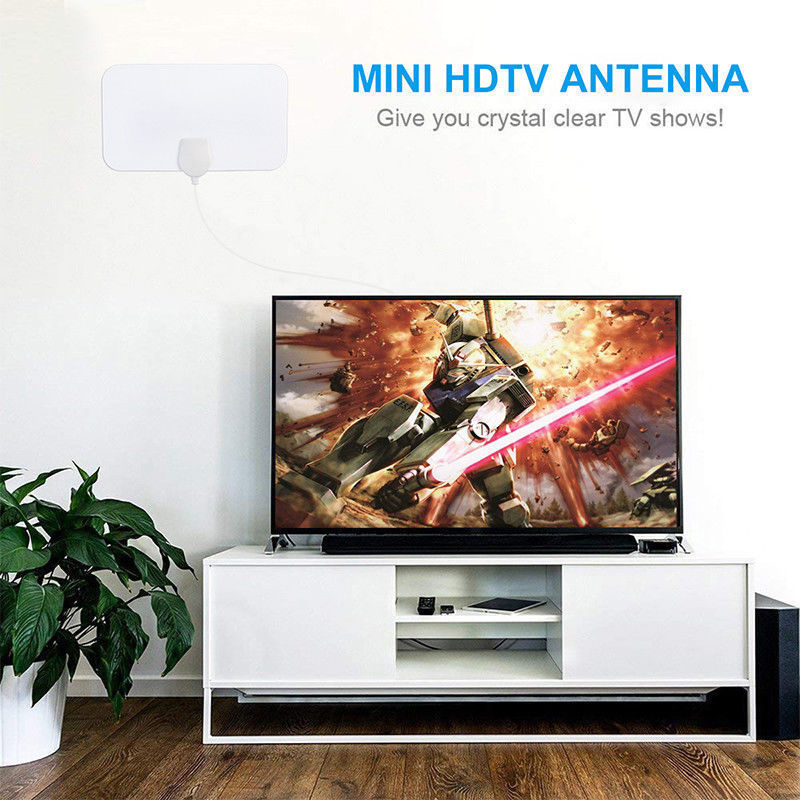 You no longer have to pay high monthly cable or satellite bills, get FREE popular national TV networks and local TV shows with out paying for expensive cable packages.

It doesn't come as a surprise that more and more people are searching for cheaper, simpler solutions to cut cable bills and get rid of all the hardware. Thankfully, there is a solution to legally watch HDTV for free!

Never pay for cable or satellite fees again!
Get access to your local news, weather, sitcoms, kids and sports programs, educational programs etc.
Receive free broadcast High Definition Over-the-Air TV signals such as ABC, CBS, NBC, PBS, Fox, Univision and others.
Enjoy crystal clear HDTV
Extremely easy to use, just hit the set up / search channels on your TV and that's it.
80 Mile Range

The HD antenna can reach up to 80 miles and can be placed almost anywhere in your home. It constantly scans for new channels as they're made available for broadcast.Hang the indoor TV antenna on a window or wall, or lay the TV antenna flat on a table. Watch tons of other TVshows and movies for free. Please first visit antennapoint.com to check how many broadcast towers surrounding you within 80 miles.
EASY INSTALLATION
Connect antenna to 'ANT IN' on the back of any HDTV. Place the Antenna in a desired location, Scan for channels in your television menu
Support 1080p
80 mile range
Coaxial Cable: 4M length
Connector Type:F - head with TV adapter
V.S.W.R.:<=1.5,Max:1
Impedance:75Ohm
Multi-directional capability
Call out all "Free" channels
Gain:25 dBi (with amplifier)
Conventional antenna panels are divided into white, black, transparent, support for samples and drawings to order
Working Frequency: 174~240MHz,470~862MHz
Mounting Paste
Radome Color White
Operation Temperature : -45 ~ 85℃
Storage Temperature : -45 ~ 85℃
Package Contents

1 * HDTV Antenna

1 * Manual

Please Note: *Before purchasing, please check whether the products are compatible with your products.